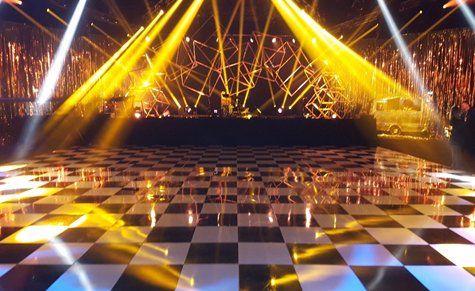 Brits after party 2016 42 x 42ft Black and white!!!

Dance Floor Hire UK is proud to be part of Paul Donnelly Services Limited, one of the UK's leading event planning and organisers and the largest stockist of dance floors for hire in the UK, guaranteeing you top quality products at sensible prices. With this in mind we only supply you with the best range of indoor and outdoor dance floors and temporary flooring solutions for sales and hire, seasonal or long term rental from the UK's largest stockist of dance floors, and unlike many other dance floor suppliers we actually own the floor so just come to the company they will probably use. This will also be the installation and hire company that actually come and fit your dance floor. This makes the booking process quick and simple. The ordering process couldn't be easier it is literally as simple as a phone call or an email, your dance floor could be dispatched within an hour of your order. Our happy and helpful sales staff will go through the order form with you. You then check the details are correct, sign and return it and we are then ready to go, it couldn't be easier.

Being part of Paul Donnelly Services Limited means that our services do not just end with dancefloors, we can provide you with anything that you need for your event. Ranging from LED love letters to full power distribution for an outside production.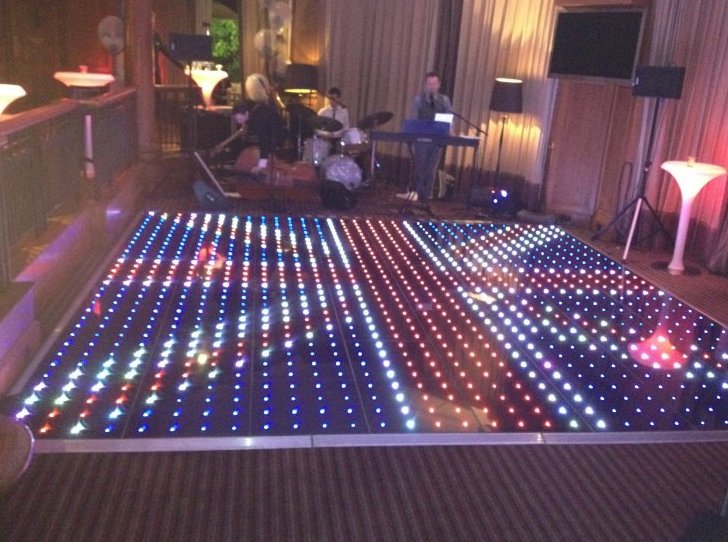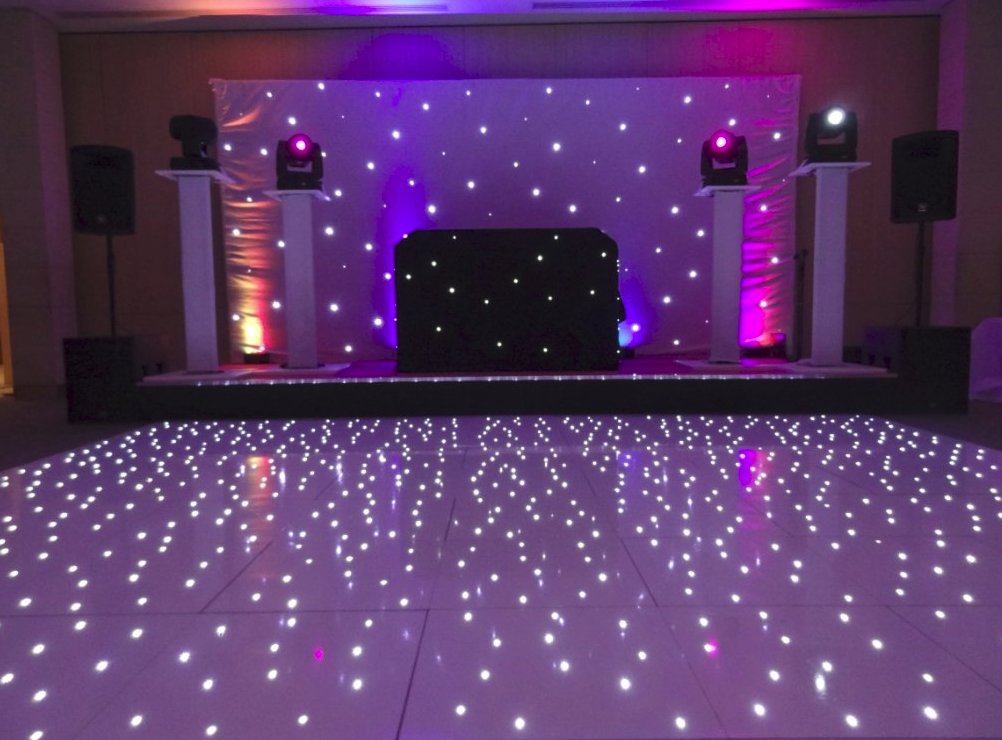 Whether you are planning a 1st birthday to a 100th birthday party, an awards night, wedding or an anniversary or a corporate event you will find that our dance floors gives that extra bit of fun to your event.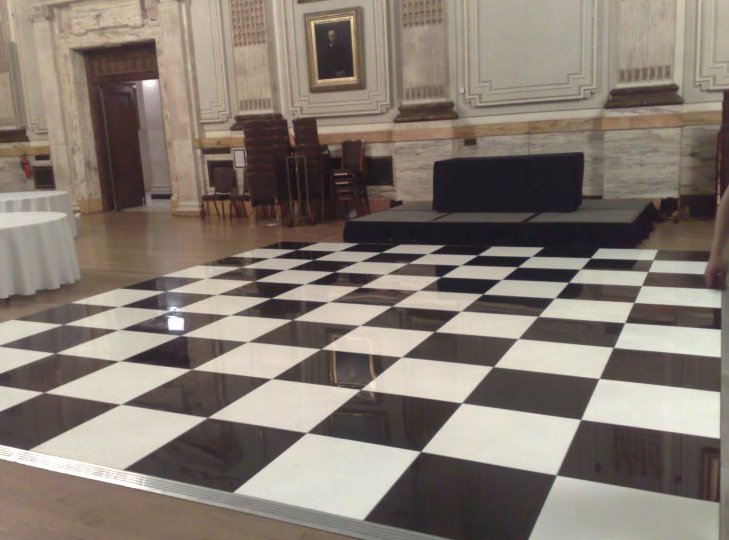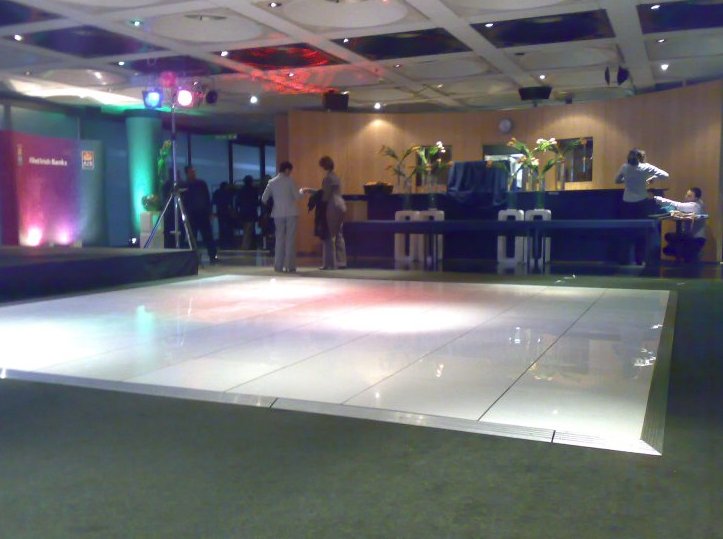 All our dance floor installation staff are fully trained, professional, polite and of course being flooring specialists the end product will be perfect and look amazing. Even if the floors are installed around pillars our dedicated staff will deal with this using our specially designed inverted corners.

Dance Floor Hire UK is also a distributor for the Sale of Dance Floors, Stages, Generators, Tables and Chairs to even Bar Counters please call for further details

With an extensive range of dance floors for sale and or hire we will have the perfect solution that suits your needs; here are just a few of your options LED, Illuminated, Starlit, Night fever, P Light, Retro, Outside, Pure glossy Black, Gleaming White, Mirrored, Vinyl Dance Mat, Pearl Decks, Raised and the traditional Black and White or Oak Parquet. New to stock for 2011 and as usual the first in London and across the UK from Devon to Glasgow try out the new Starlok led pixel dance floor seeing is believing.

If you require any other services for your event such as stage hire, Wedding Services, A Discotheque, Karaoke, Video Disco hire, Generator hire or even the legendary James Duke Band please contact us and we will be happy to work you out a special package price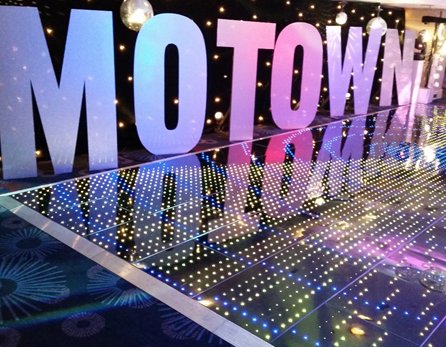 We will deliver and set up our dance floors to any location in the UK including all the main cities:


Cities in England
Bath
Birmingham
Bradford
Brighton and Hove
Bristol
Cambridge
Canterbury
Carlisle
Chester
Chichester
Coventry
Derby
Durham
Ely
Exeter
Gloucester
Hereford
Kingston upon Hull
Lancaster
Leeds
Leicester
Lichfield
Lincoln
Liverpool
City of London
Manchester
Newcastle upon Tyne
Norwich
Nottingham
Oxford
Peterborough
Plymouth
Portsmouth
Preston
Ripon
Salford
Salisbury
Sheffield
Southampton
St Albans
Stoke-on-Trent
Sunderland
Truro
Wakefield
Wells
Westminster
Winchester
Wolverhampton
Worcester
York
Cities in Wales
| | | | |
| --- | --- | --- | --- |
| Aberystwyth | Anglesey | Bangor | Cardiff |
| St Davids | Gwynedd | Ceredigion | Swansea |
| Newport | Powys | Pwllheli | Porthmadog |
Cities in Scotland
| | | |
| --- | --- | --- |
| Aberdeen | Dundee | Edinburgh |
| Glasgow | Inverness | Stirling |
Cities in Northern Ireland
Armagh
Belfast
Londonderry
Lisburn
Newry
At Dance Floor Hire UK our dedicated staff can even mix the dance floors for your event, making limitless floor designs for your event to be different to everyone else's standard floors.

Here are a few of our portable flooring use options:

The New for pixel floor, Starlok Led dance floor is about as impressive as door floors will ever get. A little bit more expensive than the standard range of dance floors that everybody else has, but once seen nothing will ever be used again instead of this spectacular dance floor. This dance floor can reproduce company logos, text, run videos. And any colour can be created from each and every pixel controlled by the latest computer technology. Seeing is believing You will never book another dance floor again and remember this is only 28mm of the existing floor surface.

Night Fever Style, the night fever floor is like in the famous movie, it mainly used for themed events and parties, the floor does look fantastic with a kaleidoscope of colour creating some breath-taking patterns. The night fever floor does include a border around fitted with hand rails keeping it up to current safety guidelines. Some people prefer to call this the floor funky retro floor but whatever you wish to call the flooring it still will look unbeatable. Please remember that this dance floor is nearly six inches of the ground and comes with a border around the dance floor area for your own safety.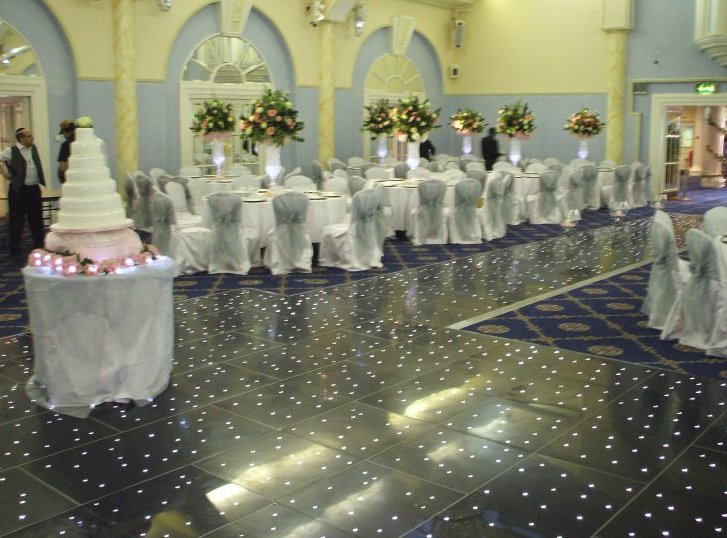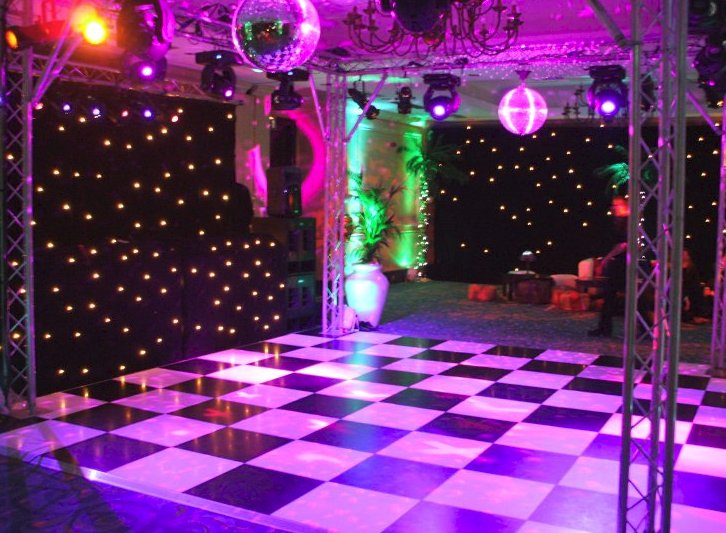 White LED floor. The perfect wedding dance floor (starlit, P Light, Pea Light) this floor is the most popular and the perfect way to start your married life, giving your first dance the sparkle and those fantastic pictures to cherish forever, also perfect for white, snow or ice themed events.

Black Led floor (starlit Sparkling, pea light, twinkling) this floor is becoming the corporate choice it looks the absolute part in any corporate environment, giving every event the extra sparkle it deserves.

Pure Black and Pure White (Publok) are the next best choice when your budget just cannot stretch to the LED dance floor versions or if you want to keep your event that little bit lower keyed.

The Traditional Oak Parquet (Florluk) Traditional looking wooden sectioned dance floor has been a very popular choice of dance floor for many years. It is still very popular for Britain's Got Talent, Ballroom Dancing, Marquee companies and even Wedding or for events that require the more traditional or an old fashioned feel. Try the new 2011 replacement for this dance floor the best dance floor just got better.

Black and White (Publok) Chequered floor this floor is made up of 2ft square (600mm) sections it has been the corporate choice of dance floors hired for years and is still a fantastic looking dance floor.

New for 2016 we have the best outdoor wood effect floor available on the market!

Also new for 2016 is our custom made 24ft round pure white dancefloor!

All of our dance floors and dance floor systems are delivered, installed and taken away again throughout England, Scotland, Wales, Northern Ireland and Europe. We hire our dance floors on long term and short term hire to suit your needs. Even just for the Christmas period. We will deliver and professionally fit them anywhere in the UK or in Europe.

Please contact us for further information, we will happily give you a free quote, without obligation, for all your dance floor hire and sales needs.

As well as dance floors our sister companies can provide everything you could ever require for your event or party including:
Stage Hire
Tiered Seating Hire
Generator Hire
Marquee Hire
Event Planning
Party Planning
Team Building
Discos and Karaoke
Conferencing Production Services
Themed Events
Seating Hire
Live Music
Carpet Hire
Wedding Services
Visit our main site Paul Donnelly Services Limited by clicking here for further information, or contact us by calling 07767707720 .
Do you or your business own your own dance floor? Is it in need of some tender Loving Care? Bring your own acrylic and wooden dance floors back to life click here for details.
Make your event or special day perfect by getting the very best in dance floor hire.